APALACHICOLA AND ST. GEORGE ISLAND, FLORIDA
Awesome Apalachicola Fishing Charters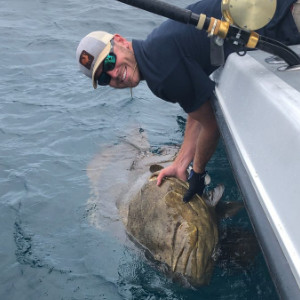 If you're on the hunt for top-notch Apalachicola Fishing Charters or St. George Island Fishing Charters, look no further! Climb aboard with Captain Zach Armistead of Apalachicola Saltwater Charters for a fishing or boating adventure you'll never forget. Armed with a lifetime of local fishing expertise, Captain Zach will help you land the big one and load up the cooler with delicious fish.
Out of all the Apalachicola fishing charters, this is probably the most unique. That's because Captain Zach offers both inshore fishing adventures as well as relaxing boat cruises.
The Boat
Captain Zach will take you out on his comfortable, 23-foot C-Hawk, fitted with a powerful 150 hp Yamaha motor, and put you right on top of the hottest fishing spots and honey holes. Perched atop his boat's fish spotting tower, he can pinpoint the most productive spots and ensure you make the catch.
Bountiful Fish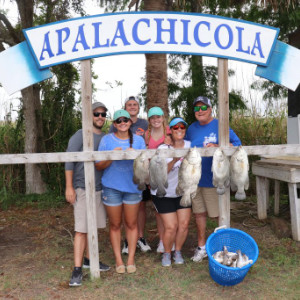 With a lifetime of fishing experience, Captain Zach has the skills and know-how to put you on top of whatever fish you want to catch!
Want to try your hand inshore? He'll take you out to the Apalachicola Bay and St. George Island flats where you'll catch redfish, speckled trout, tripletail, sheepshead, pompano, Spanish mackerel and black drum.
If you're a fishing rookie, not to worry! Captain Zach will guide you every step of the way and teach you all the tricks of the trade. If you're a practiced angler, he'll put you right on top of the fish and let you have at it. No matter what your experience level, Captain Zach will make sure you have the fishing trip of a lifetime.
Relaxing Boat Cruises
Not in the mood for fishing? No problem! If you prefer a fun and relaxing boating trip, Captain Zach also offers Apalachicola River Tours and St. George Island Sunset Cruises. Whether you're looking to take that special someone out for a romantic outing or want to take a fun-filled family boating adventure, Captain Zach can accommodate!
A Lifetime of Fishing Experience
You won't find a more experienced fishing guide than Captain Zach Armistead. He has spent his entire life fishing on the Forgotten Coast. In fact, the entire Armistead family has an extensive history of fishing the Apalachicola Bay and St. George Island coast. Fishing since the young age of 3, Captain Zach comes armed with a lifetime of knowledge, skill and expertise.
If you're searching for the best of St. George Island Fishing Charters and Apalachicola Fishing Charters, this is the one. Captain Zach will help you make some jaw-dropping catches and unforgettable memories.
Ready for the fishing or boating adventure of a lifetime? Book with Apalachicola Saltwater Charters today!
We had an amazing time with Captain Zach!
This fishing trip was the highlight of our vacation on St. George Island. We had such a great time, we've already booked our fishing charter trip with Captain Zach Armistead for next summer!
The Malone Family
Atlanta, GA
The perfect end to our Florida vacation!
We had such a great time fishing with Captain Zach! We caught tons of fish and enjoyed every minute of our trip. We plan on booking with him again next year.
The Pratts
Blairsville, GA
Absolutely beautiful!

Captain Zach took my wife and I on the most beautiful sunset tour! The water was calm and peaceful, perfect for a relaxing evening watching the sunset. Thank you Captain Zach Armistead for a great trip!
The Revels
Chattanooga, TN